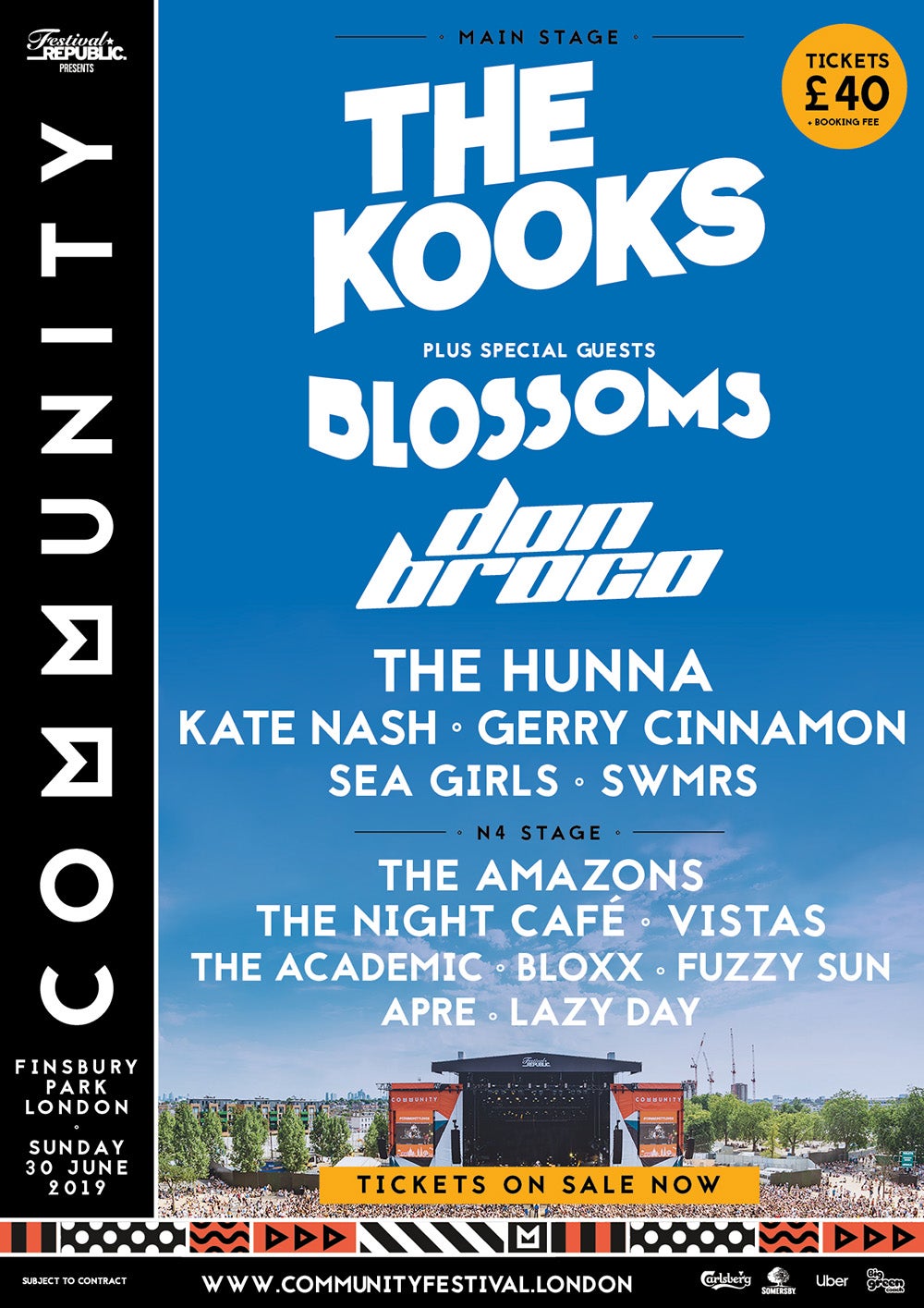 Festival Republic presents Community Festival with The Kooks
Ages 5+ Only
Sunday 30 June 2019
Doors open at 11:30AM
Subject to Contract
DATE:
30th June 2019
Venue:
Finsbury Park
Gate times*:
Sunday 11:30
*Gate times are subject to change
**Please be aware that no bags larger than A4 will be permitted into the festival**
Delivery Information
All prices exclude a per transaction delivery fee which will be added to the total amount due.
Delivery fees vary based on your billing address. Please see the options for your country below:
United Kingdom
Standard Post: £3.45
Overseas
Standard Post: £4.95
Ticket limits
Please note: There is a ticket limit of 6 tickets per person and per credit card on this event.
Please adhere to published ticket limits. Persons who exceed the ticket limit may have any or all of their order(s) and tickets cancelled without prior notice by Ticketmaster in its discretion. This includes: orders associated with the same name, e-mail address, billing address, credit card number or other information.
Age Restrictions:
Community Festival is not suitable for young children. Children under 5 (aged 4 or below) are not permitted.
Children under 16 years old (aged 5 -15) must be accompanied by a parent or guardian (18 or over) at all times and will need a full-price ticket.
If you're 16 or older you can attend on your own, please bring ID with you.
PERSONAL ASSISTANT TICKET INFORMATION.

If you are a Disabled customer and unable to attend the Event without the support from a PA (Personal Assistant) we can provide an additional PA ticket at no extra cost.
Please buy your standard ticket first, we do not have a separate ticket type for Disabled customers.
Once you have purchased your Event ticket we then ask you to apply for your PA Ticket via our online Access Requirements form.
To check if you will qualify for a PA Ticket please refer to the Terms and Conditions on our website HERE.
Event info (including what to bring / what not to bring):
https://communityfestival.london/event-information-2/
**Please be aware that no bags larger than A4 will be permitted into the festival**
Terms & Conditions:
https://communityfestival.london/wp-content/uploads/2018/10/Community-Festival-Ts-Cs-2019.pdf
Privacy Policy: